Recently I was asked to show how I make a cord for my crochet necklaces/chokers. Sorry for delay, my computer has been down for a while but now I'm ready to share with you some of my secrets :-)
I'm more used to American crochet terms, so the pattern is given in American terms.
Here is a crochet terms conversion chart to UK crochetters.
US UK
chain(ch) chain(ch)
single crochet (sc) double crochet (dc)
double crochet (dc) treble (tr)
half double crochet (hdc) half treble (htr)
triple crochet (trc) double treble (dtr)
slip stitch (sl st) slip stitch (sl st)
First of all you need to make a slip ring or a magic ring or magic circle, the same thing just having different names. I found this picture which was very helpful for myself.
But if you need more help
here
is a video from youtube uploaded by
tjw1963
Round 1
. For slip ring leaving 4" end of thread, make a loop, insert hook through loop from front to back, yarn over (see picture 1) pull through loop to form ring, yarn over, pull through loop on hook (picture 2), make chain 3 and 7 dc in a ring, pull end of the thread tightly to close ring having 8 dc including chain of 3 stitches at the beginning. Do not join rounds, continue in spiral.
Round 2
. Working this round in back loops, sc in top of chain 3, sc in each dc around (8 sc). Turn stitches of rounds 1 and 2 wrong side out, bring 4" end through center of ring, Backside of stitches will be on outside of work. Stuff 4" end inside the cord.
Continue working round 2 in back loops, making sc in each stitch around, do not join rounds! Finish when you get desired length. I normally make a 20 - 21" long cord.
Last round
. (Sc in next stitch and skip the next one) repeat 4 times (4 stitches left).
For the
clasp
make a chain of 13 stitches and slip stitch to the 3-rd stitch in previous round. For clasp bead cut 4" long tread and wrap it tightly around the beginning of the cord (1/2" from the end). Secure all ends (I use some fabric glue to keep ends safe).
For my necklaces I use 100% mercerized crochet cotton size 20 and a hook size 1 - 1.25 mm. I do my stitches quite tight, if you are used to make it a bit loose, use size 1.25 mm. I would say try and make a test piece to check you tension, if the tension is too tight use larger hook, if the tension is too loose, get a smaller hook. Do experiment! Some charts that I've found in the internet refer metric size 1.25 mm to size 4 (UK) and 10 (US).
Any maker of thread will do – DMC Chebelia, Aunt Lydia, Whoosh, Lesur Empress, Crochetta, Twilleys Southern Comfort, Coats. If cotton is slightly thicker (size 10) it is still fine for a necklace. I prefer mercerized cotton as the cord comes stiff enough to keep its shape.
Then just add some motiffs - flowers and leaves, make them in solid colours or variegated ones,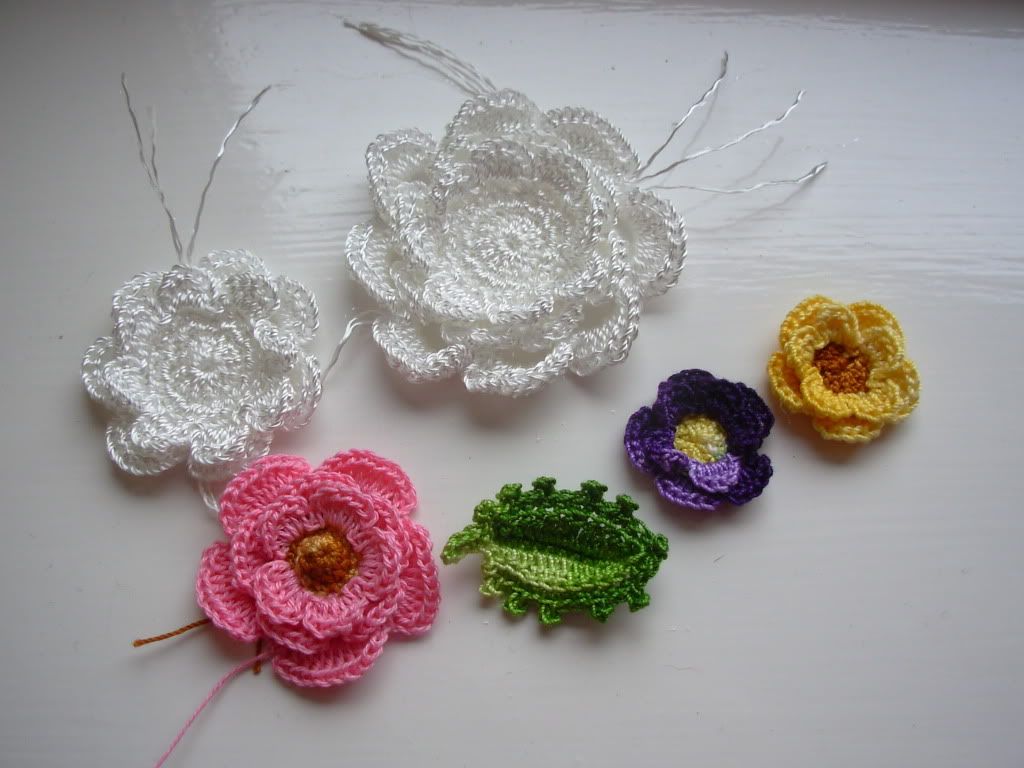 and your necklace is done! You've made one of a kind piece of handmade jewellery! It's a perfect gift for a girlfriend, a friend or maybe a treat for yourself.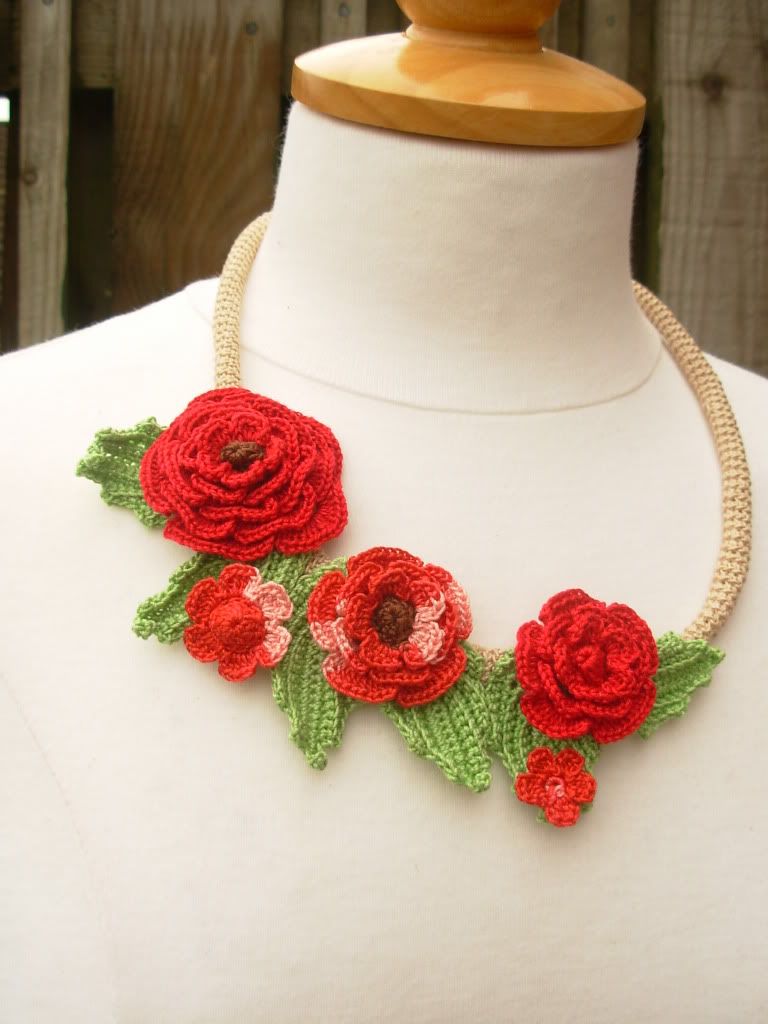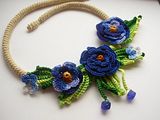 You'll find more ideas for necklace designs here or watch my video on youtube

The same cord can be used as a bag handle, depending on the size of a bag, you can make a thicker cord. I suggest using thicker thread (DK cotton) for handles, it'll make them stiffer. If you want really thick handles, follow the above instructions but make more dc in a slip ring in round 1 and use larger hook. And then just stuff handles with toy stuffing.